Every couple needs great engagement photos to commemorate their love and celebrate the beginning of their journey together as a married couple.
Content is powerful. It can move you, redeem you, build you up, and even break you. But it's important to remember that words are just the beginning of any masterpiece. Emotions speak louder than simple letters and that's why pictures are a force to be reckoned with.
No matter how you plan to use them, first-look engagement pictures are an important memento of your engagement that can help you keep the spirit of the day alive, and provide your wedding photographer with something beautiful to shoot.
I decided to compile this list of cute engagement captions on Instagram and share it with you as a guide to make it easier for you to find captions with a special meaning attached to them. Let us start
Best Engagement Captions for Instagram
"Love locked, forever in each other's embrace."
"The beginning of our forever."
"Two hearts, one unbreakable bond."
"Promises made, dreams to be shared."
"Together, we can conquer the world."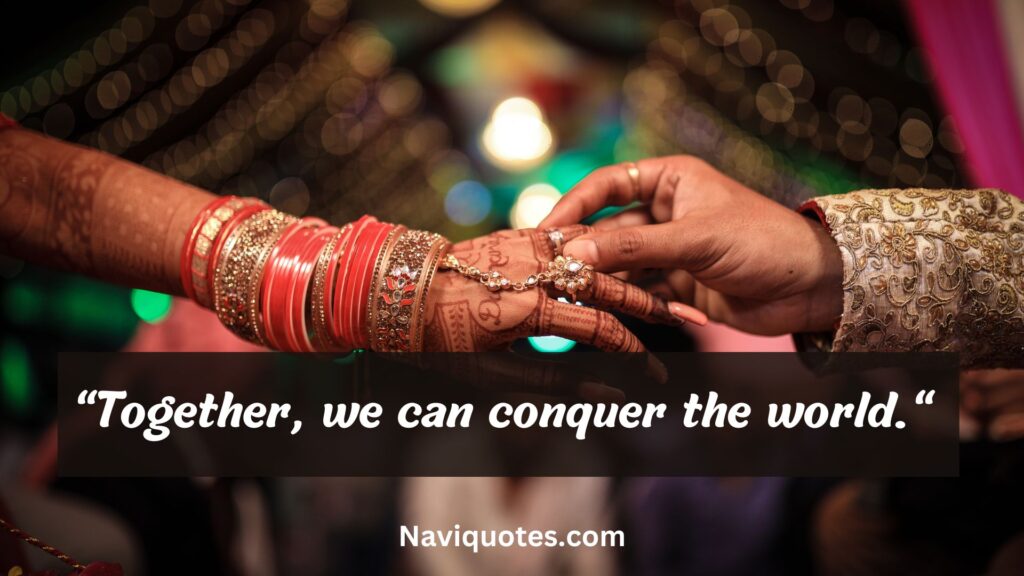 "Found my missing piece, forever complete."
Every love story starts with a single 'yes.'
"A moment frozen in time, eternally in love."
Celebrating the joy of saying 'I do.'
"Love found its way, and now we're here."
"We said 'yes' to a lifetime of adventure."
"Our love story is just getting started."
"From this day forward, you and me."
"Two souls united, two hearts beating as one."
In your arms, I've found my home.
"Today, tomorrow, and forevermore, I choose you."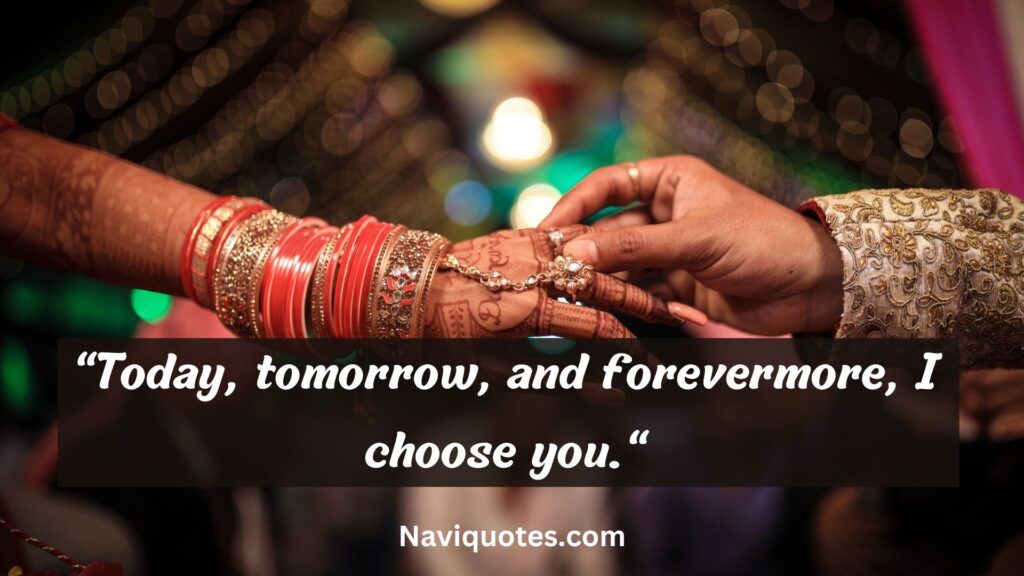 "Writing our love story, one chapter at a time."
"Together, we're unstoppable."
"Happily ever after begins now."
"With you, I've found my happily ever after."
Funny engagement Captions
"When life gives you a ring, you put it on and say, 'Sure, why not?'"
"I finally found someone who's just as weird as me. Brace yourselves, world!"
"Looks like we're in for a lifetime of 'I told you so' moments."
"I said 'yes' and now I have a lifetime subscription to Dad Jokes."
"Found someone who can tolerate my weirdness. Engagement mission accomplished!"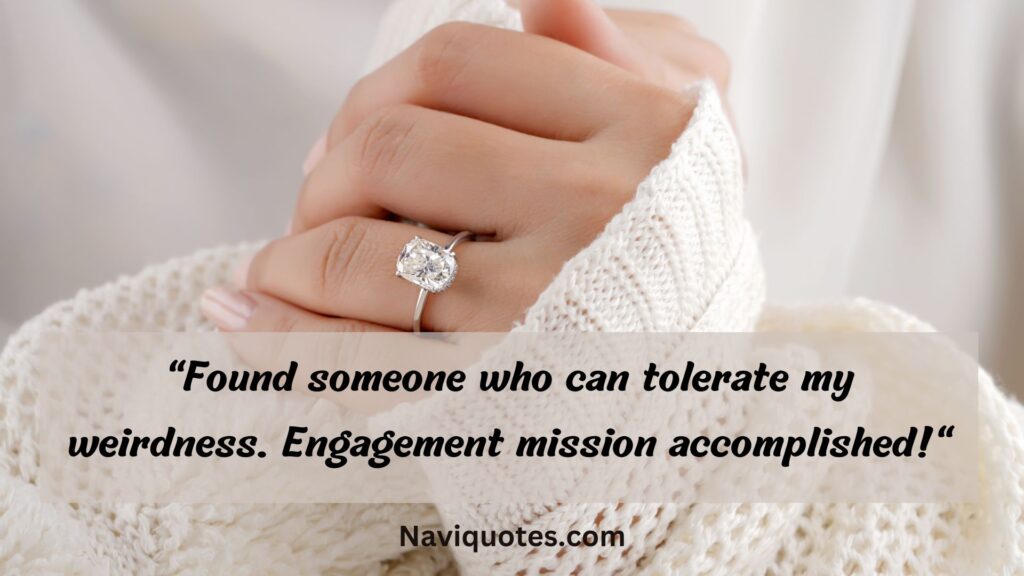 "We're about to embark on a hilarious journey called 'marriage.' Buckle up!"
"I found my partner in crime. Get ready for some epic mischief!"
"Warning: We've decided to team up and take over the world. Proceed with caution."
"Two weirdos, one ring, and a whole lot of laughter."
"I guess it's official now. My family has to accept my partner's weirdness too."
"This is what happens when two clowns decide to get engaged. Cue the laughter!"
"I can't believe I found someone who laughs at my jokes. I'm keeping them!"
"Engagement level: Expert. Now onto the advanced course: marriage."
"So, I guess we're stuck with each other. Might as well laugh our way through it!"
"Our love story: where laughter takes center stage and awkward moments are the plot twists."
"Here's to the person who loves my weirdness and is willing to put up with it for life."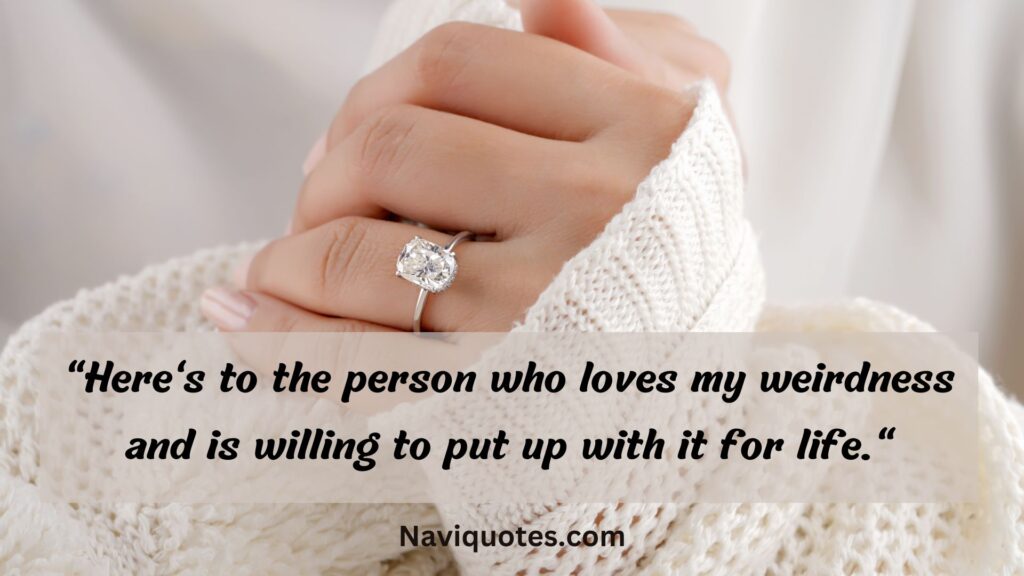 "When two goofballs fall in love, it's a guarantee that life will be filled with laughter."
"Engagement: Proof that someone out there is willing to deal with my shenanigans forever."
"Who needs a fairytale when you can have a hilarious love story?"
"When life gets tough, remember to laugh together. It's the secret ingredient to a happy engagement."
Short Engagement Captions
"Love locked."
"Forever together."
"A promise fulfilled."
"Our forever begins."
"Two hearts, one future."
"From 'me' to 'we.'"
"Our love, forever sealed."
"A love story in motion."
Happiness found.
"Two souls, one journey."
"Love's sweet surrender."
"A lifetime of love awaits."
"Love's adventure begins."
"Together, forevermore."
"Love's perfect union."
"The start of our forever."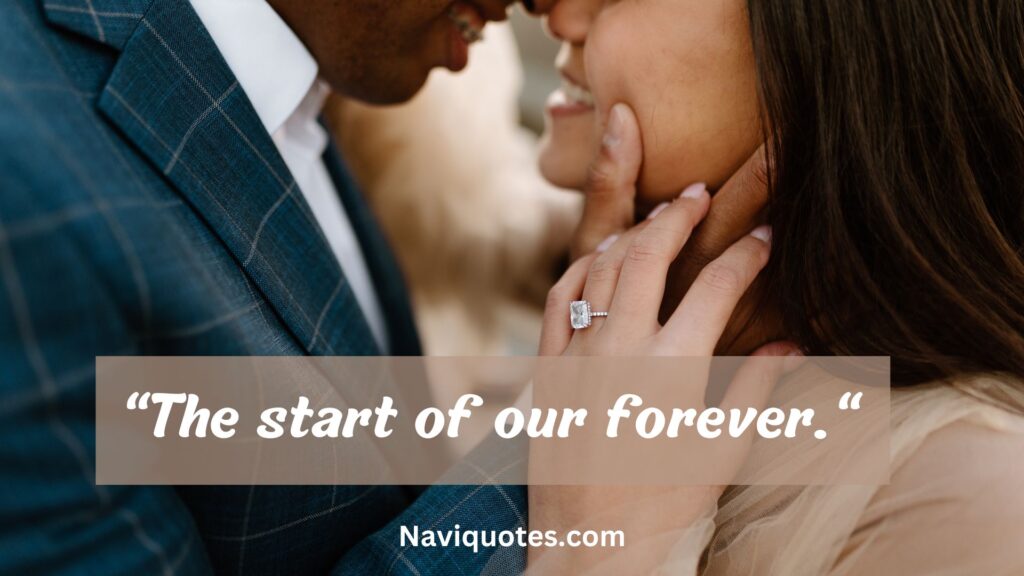 "Saying 'yes' to forever."
"Love's eternal promise."
"Bound by love, united in life."
"A moment to cherish, a lifetime to love."
Engagement Photo Captions
"Love captured in a single frame."
"When two hearts become one."
"A picture-perfect promise."
"Forever etched in our hearts."
"Two souls intertwined in this beautiful moment."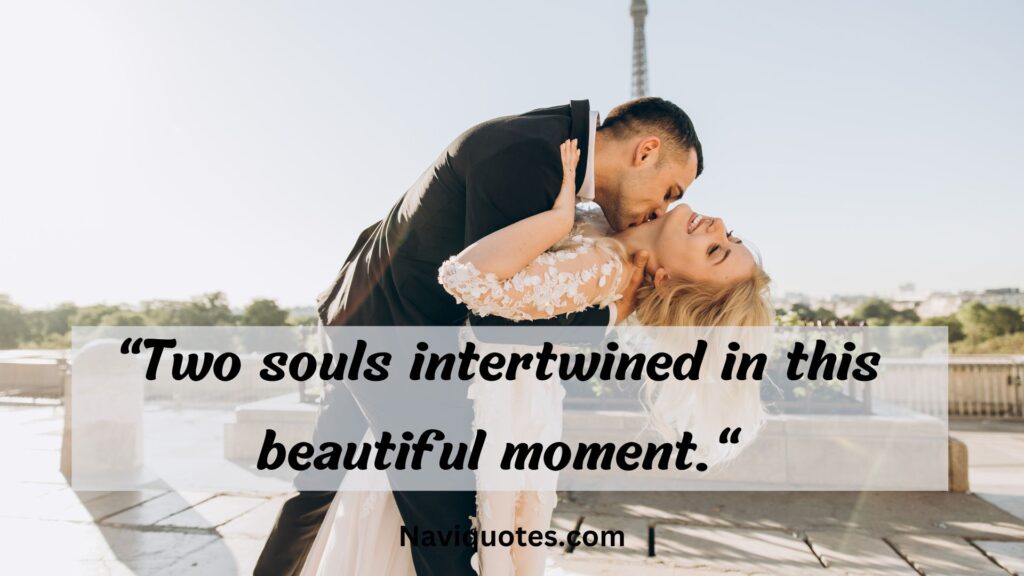 "Our love story, frozen in time."
"A glimpse into our journey of love."
"The beginning of our happily ever after."
"Capturing the magic of this milestone."
"Love framed in a perfect snapshot."
"In this photo, love speaks louder than words."
"A picture that holds a thousand promises."
The art of love, beautifully portrayed.
"From Smiles to Forever: Our engagement in a picture."
"This photo captures the essence of our love story."
"When the lens reveals our boundless love."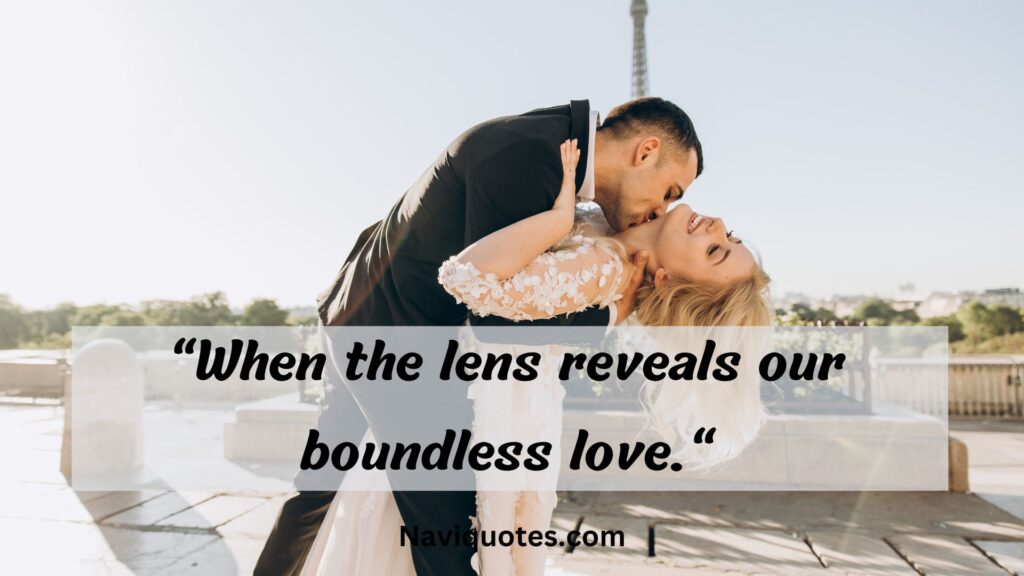 "A single click, a lifetime of memories."
"The joy of love, evident in every pixel."
"One click that symbolizes a lifetime of commitment."
"This photo holds the key to our everlasting love."
Engagement Announcement Captions
"We've taken the leap, and love has found its way to us."
"Exciting news: Our hearts have made it official!"
"From dating to forever: We're engaged!"
"Announcing our next chapter: Wedding bells are on the horizon!"
"Love has spoken, and we're thrilled to announce our engagement!"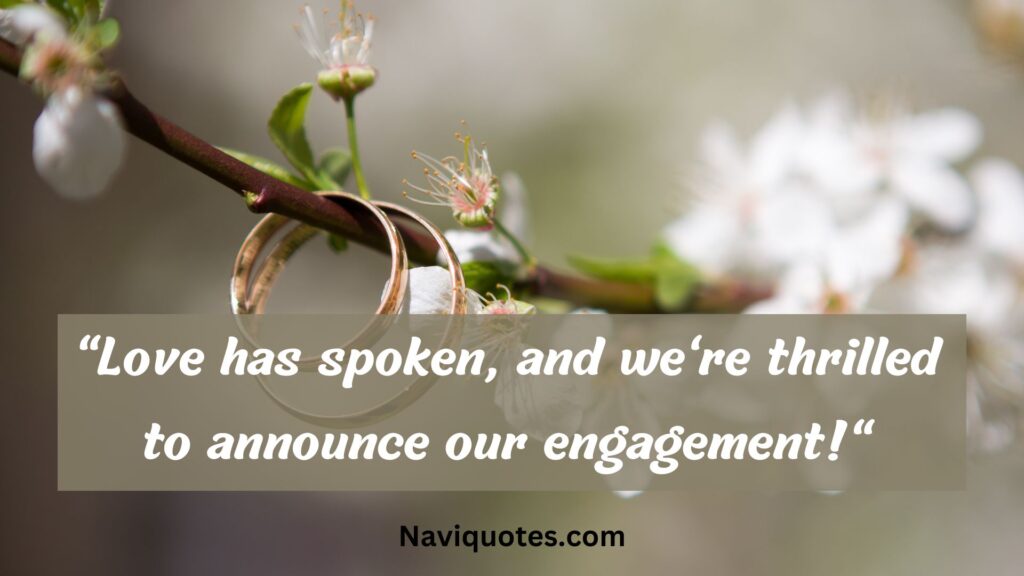 "We're ready to shout it from the rooftops: We're getting married!"
"Thrilled to share the news of our upcoming nuptials!"
"Love's journey has led us here: We're engaged and over the moon!"
"We couldn't keep it a secret any longer: We're tying the knot!"
"With hearts full of joy, we announce our engagement!"
"Love has written our story, and now it's time to say 'I do'!"
"Breaking the news: We're embarking on a lifetime of love and commitment!"
"Our love story continues with the promise of forever!"
"It's official: We're going from partners to spouses!"
"The countdown begins: Wedding plans are in motion!"
"We're thrilled to share our engagement news with all of you!"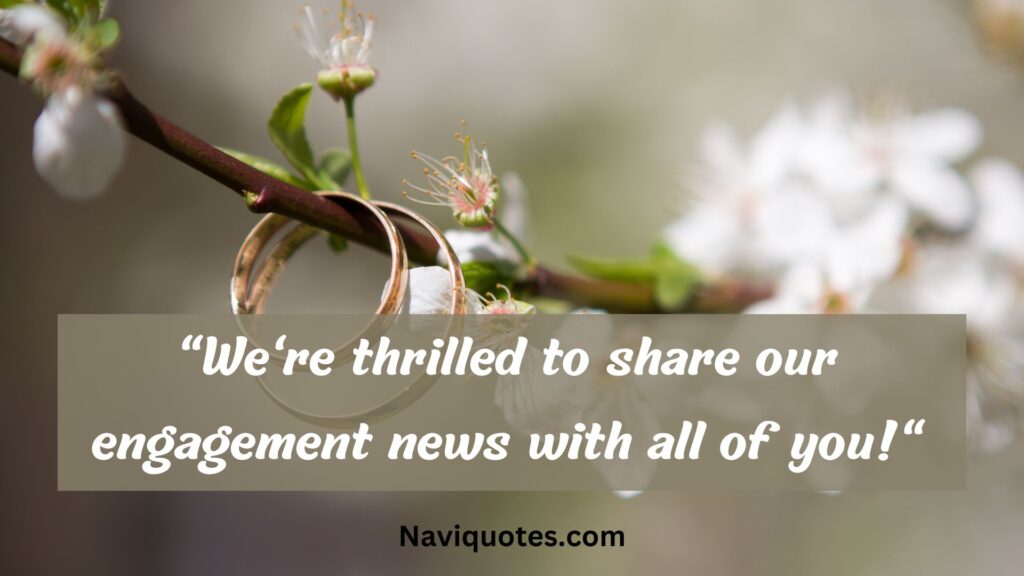 "Love's journey has brought us here, and we're embracing it wholeheartedly!"
"Two hearts, one future: We're engaged and ready for the adventure!"
"Announcing our engagement with love, laughter, and a lifetime together!"
"With overwhelming happiness, we declare our engagement to the world!"