Bernard Arnault , the richest person in europe is a French businessman and the chairman and CEO of LVMH. Arnault has been involved in the fashion and luxury goods industry for more than 40 years.
Though he started his career in fashion over the years he has overseen the expansion of LVMH into a wide range of industries, including jewelry, watches, wine, and spirits.
He is known for his keen business acumen and his ability to identify and invest in successful luxury brands.
This an Interesting collection of 35 Bernard Arnault quotes that all entrepreneurs need to hear. Check them out, and Share them.
Bernard Arnault Quotes
"The goal of a start-up is not to stay a start-up. The goal of a start-up is to grow and to become, if possible, a large company." — Bernard Arnault
"Affordable luxury – these are two words that don't go together." — Bernard Arnault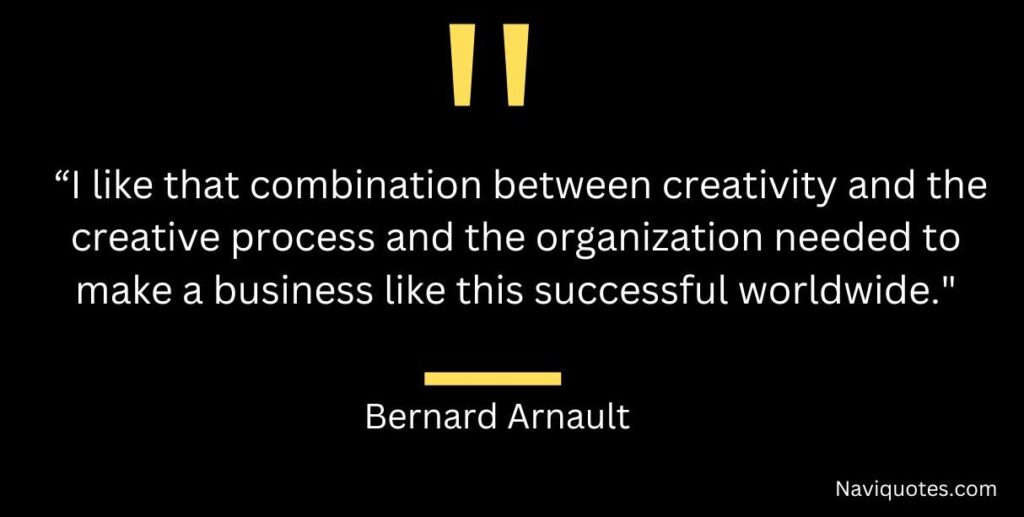 "I like that combination between creativity and the creative process and the organization needed to make a business like this successful worldwide." — Bernard Arnault
"All that interests me is promoting my brands, never myself." — Bernard Arnault
Money is just a consequence. I always say to my team, 'Don't worry too much about profitability. If you do your job well, the profitability will come." — Bernard Arnault
"If you deeply appreciate and love what creative people do and how they think, which is usually in unpredictable and irrational ways, then you can start to understand them. And finally, you can see inside their minds and DNA." — Bernard Arnault
"My work is to help innovators and designers understand that the success of their creativity is in large part based on the success of their products. Creativity – yes, but executed in a way that people like and can use." — Bernard Arnault
"Luxury goods are the only area in which it is possible to make luxury margins." — Bernard Arnault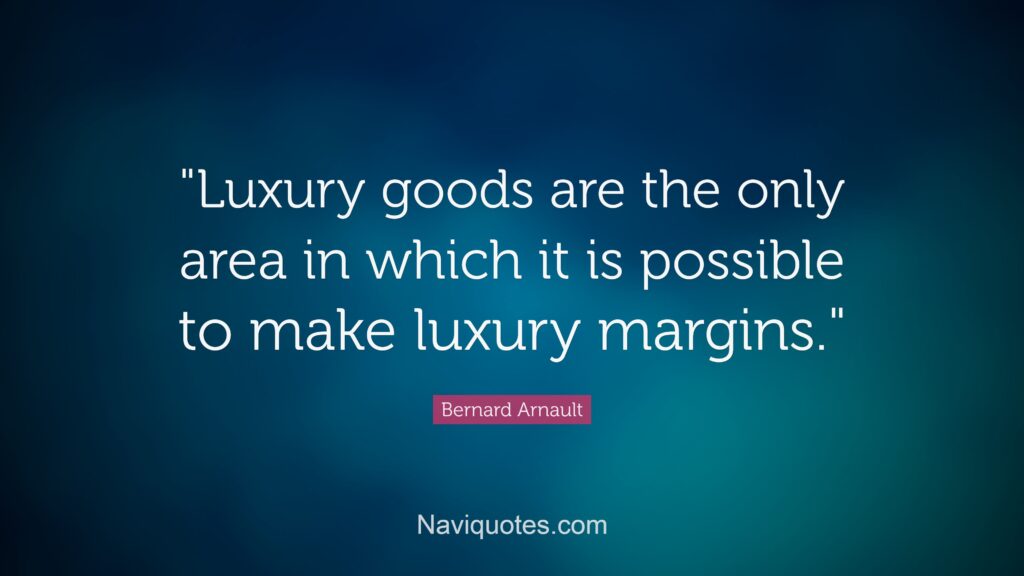 "If you control your distribution, you control your image." — Bernard Arnault
"Happiness for me is really leading the team and, if possible, leading them to the top." — Bernard Arnault
Top Bernard Arnault Quotes
"A good product can last forever." — Bernard Arnault
"I think in business, you have to learn to be patient. Maybe I'm not very patient myself. But I think that I've learned the most is be able to wait for something and get it when it's the right time." — Bernard Arnault
"I remember people telling me, it does not make sense to put together so many brands. And it was a success, it was a recognized success, and for the last 10 years now, every competitor is trying to imitate it. I think they are not successful, but they try." — Bernard Arnault
"The goal of a startup is not to stay a startup. The goal of a startup is to grow and to become, if possible, a large company." — Bernard Arnault
"Affordable luxury – these are two words that don't go together." — Bernard Arnault
"When you are on the management side, you still have to understand the artistic sensibility so that there is a dialogue with the creative side." — Bernard Arnault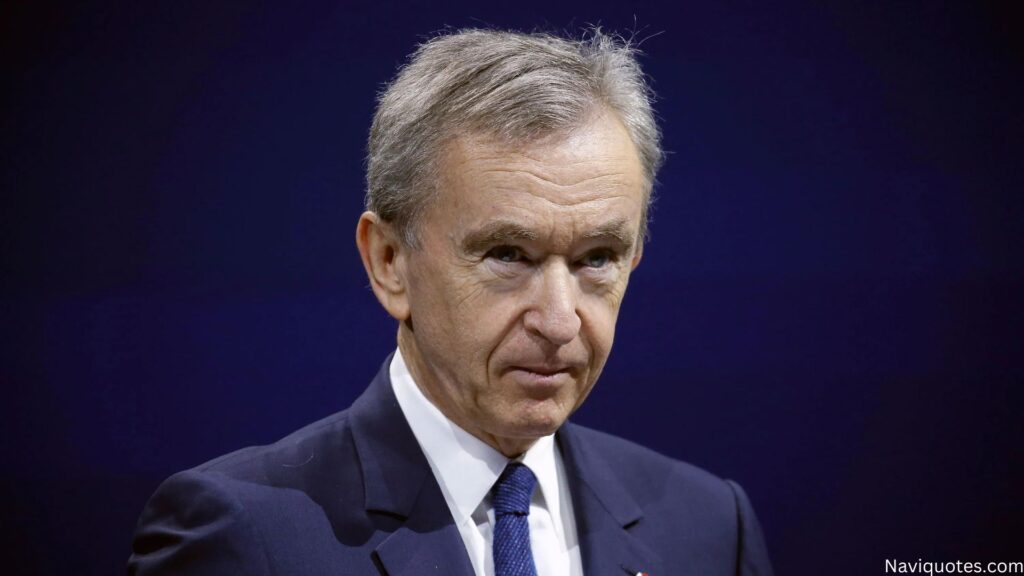 "What I have fun with is trying to transform creativity into business reality all over the world. To do this, you have to be connected to innovators and designers, but also make their ideas liveable and concrete." — Bernard Arnault
"I like that combination between creativity and the creative process and the organization needed to make a business like this successful worldwide." — Bernard Arnault
"I take time to get close to, and I don't immediately throw my arms around someone." — Bernard Arnault
"In business, I think the most important thing is to position yourself for the long-term and not be too impatient, which I am by nature, and I have to control myself." — Bernard Arnault
Business Quotes from Bernard Arnault
"When I took over Louis Vuitton, everyone said, 'It's already so big – what more can you do?' And since then, we've multiplied that success tenfold." — Bernard Arnault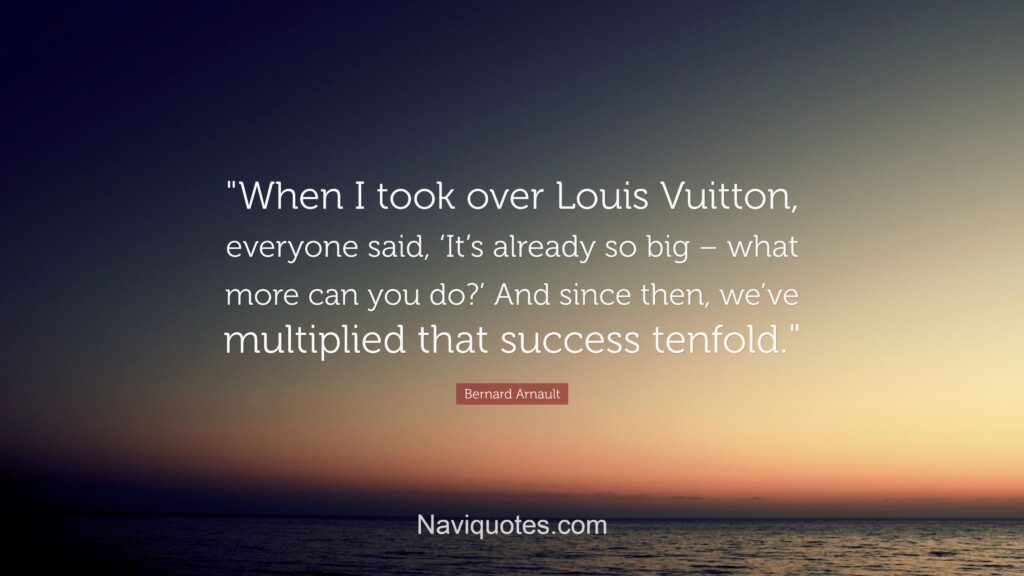 "When something has to be done, do it! In France, we are full of good ideas, but we rarely put them into practice." — Bernard Arnault
"I often say to my team we should behave as if we're still a start-up. Don't go to the offices too much. Stay on the ground with the customer or with the designers as they work. I visit stores every week. I always look for store managers. I want to see them on the ground, not in their offices doing paperwork." — Bernard Arnault
"The person who I admire most in business is Warren Buffett. He is a long-term investor and has brilliant ideas, and he sticks to them." — Bernard Arnault
"Louis Vuitton, the world's biggest luxury brand in terms of sales, is planning to dampen its expansion worldwide and focus on high-end products to preserve its exclusive image." — Bernard Arnault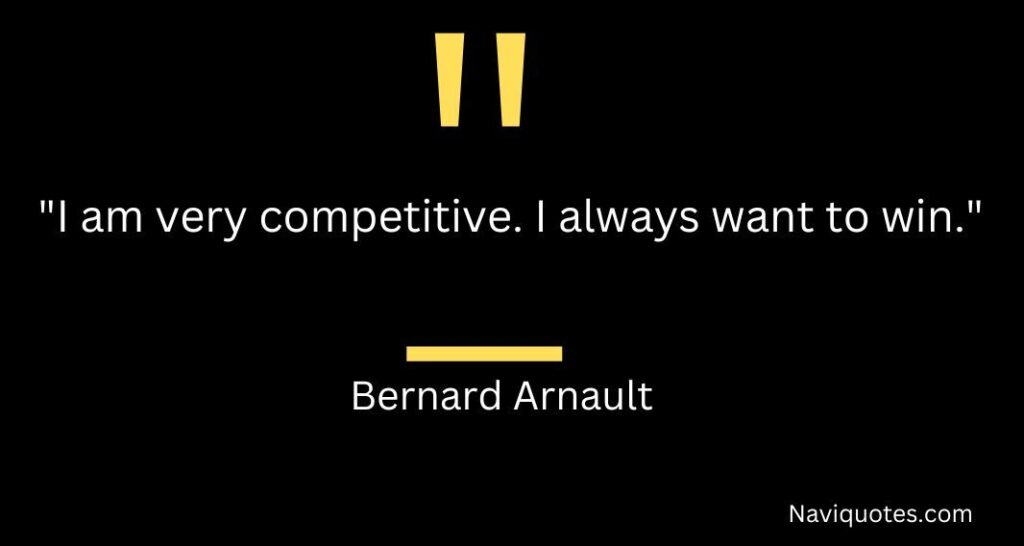 "I am very competitive. I always want to win." — Bernard Arnault
"I would never diminish the quality of Hermes. Hermes can be an even rarer and greater quality business, if they ever wanted to work with us." — Bernard Arnault
"What we do in our group is the opposite of the bad effects of globalization. We produce in Italy and in France and we sell to China when usually it's the opposite." — Bernard Arnault
"What feels good is choice. Having the freedom of choice. The only thing that is imposed on me professionally speaking is my own long-term vision of things." — Bernard Arnault
"You have to be just as mistrustful of straightforward rationality in business as you do of a uniquely gut approach." — Bernard Arnault
Interesting Bernard Arnault Quotes
"China is clearly going to be the number one economic power and it is already full of potential.. with lots of population and the buying power increasing by the day." — Bernard Arnault
"It's true that I am not from the south and I have a certain reserve. I take time to get close to it, and I don't immediately throw my arms around someone. But it is more a question of style." — Bernard Arnault
"Once we decided to do a tower in New York, it had to say something about our group, reflecting the mix of modernity and creativity in our organization. It's a symbol." — Bernard Arnault
"I am and will remain a tax resident in France and in this regard I will, like all French people, fulfill my fiscal obligations." — Bernard Arnault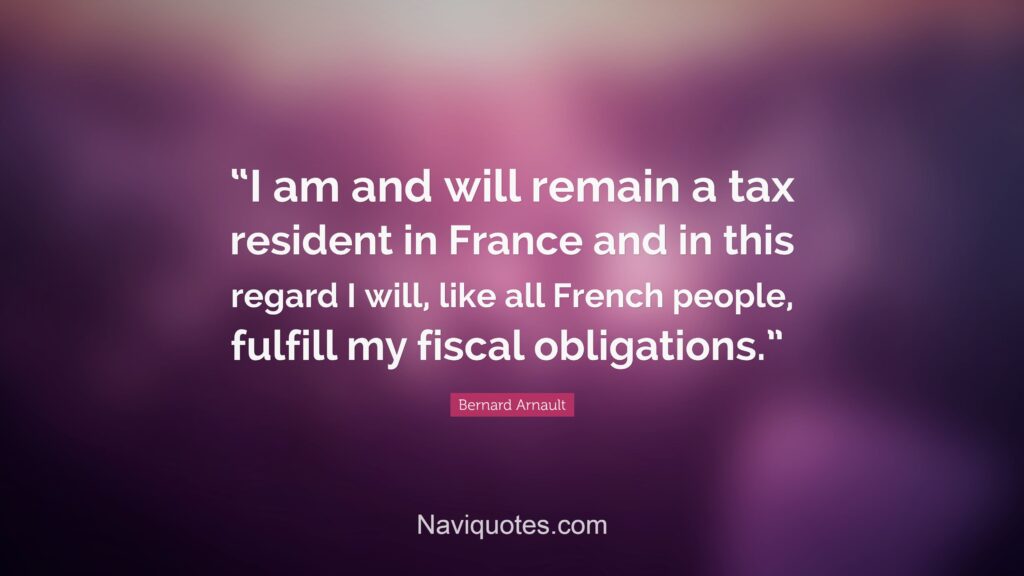 "Oh, I was brought up in the north of France, and I had a very enjoyable childhood with my family working as an entrepreneur." — Bernard Arnault
Details about Bernard Arnault
Name
Bernard Arnault
Fullname
Bernard Jean Etienne Arnault
Born
5 March 1949
Country
Roubaix, France
Educations
Ecole Polytechnique, Palaiseau
Occupations
Business Magnate, Media Proprietor, Art Collector
Known for
Founding LVMH, the Current Richest Person in the world as of December 12, 2022.
Title
Chairman and CEO, LVMH
Chairman, Christian Dior SE
Organizations Founded
Europ@web, Groupe Arnault
Spouses
Anne Dewavrin (m. 1973; div. 1990)​
Helene Mercier (m. 1991)
Children
Antoine Arnault, Delphine Arnault, Alexandre Arnault, Frederic Arnault, Jean Arnault
Relatives
Natalia Vodianova (daughter-in-law)
Grand Children
Elisa Niel, Maxim Arnault, Roman Arnault
An Interesting Video about Bernard Arnault