Reid Hoffman is an entrepreneur who has founded several companies, including LinkedIn, which he sold to Microsoft for $26 billion.
He's also the author of a book called "The Start-up Of You," which draws on his experiences as an entrepreneur to offer advice to people who want to start their own businesses.
Here we list some of his best quotes.
Reid Hoffman Quotes for Business
"If you are not embarrassed by the first version of your product you've launched too late." – Reid Hoffman
"An entrepreneur is someone who jumps off a cliff, and builds a plane on his way down." – Reid Hoffman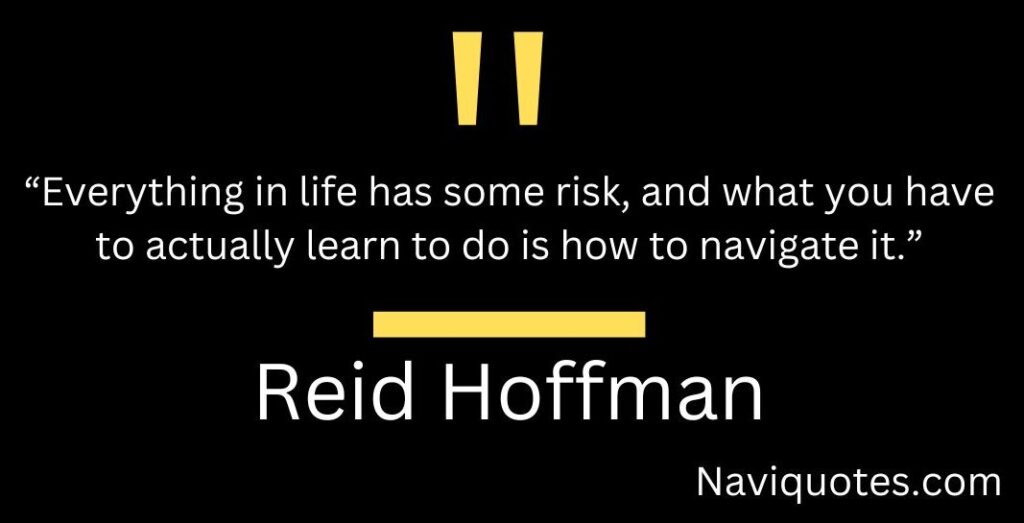 "Everything in life has some risk, and what you have to actually learn to do is how to navigate it." – Reid Hoffman
"You have to be constantly reinventing yourself and investing in the future."- Reid Hoffman
"No matter how brilliant your mind or strategy, if you're playing a solo game, you'll always lose out to a team." – Reid Hoffman
"Hard work isn't enough, and more work is never the real answer." – Reid Hoffman
"The fastest way to change yourself is to hang out with people who are already the way you want to be." – Reid Hoffman
"The will to create is encoded in human DNA." – Reid Hoffman
"Every internet entrepreneur should answer these questions: How do we get to 1 million users? Then how do we get to 10 million users? Then how will you get deep engagement by your users." – Reid Hoffman
"Silicon Valley is a mind, not a location" – Reid Hoffman
"What makes the meaning of life is people, so you try to be good to people immediately around you and in your broader community. So a lot of my projects are about how I can affect the world in the hundreds of millions." – Reid Hoffman
"Society flourishes when people think entrepreneurially." – Reid Hoffman
"Most often I am only interested in an idea if it's going to get hundreds of millions of users. That's the scale that I am always trying to play to." – Reid Hoffman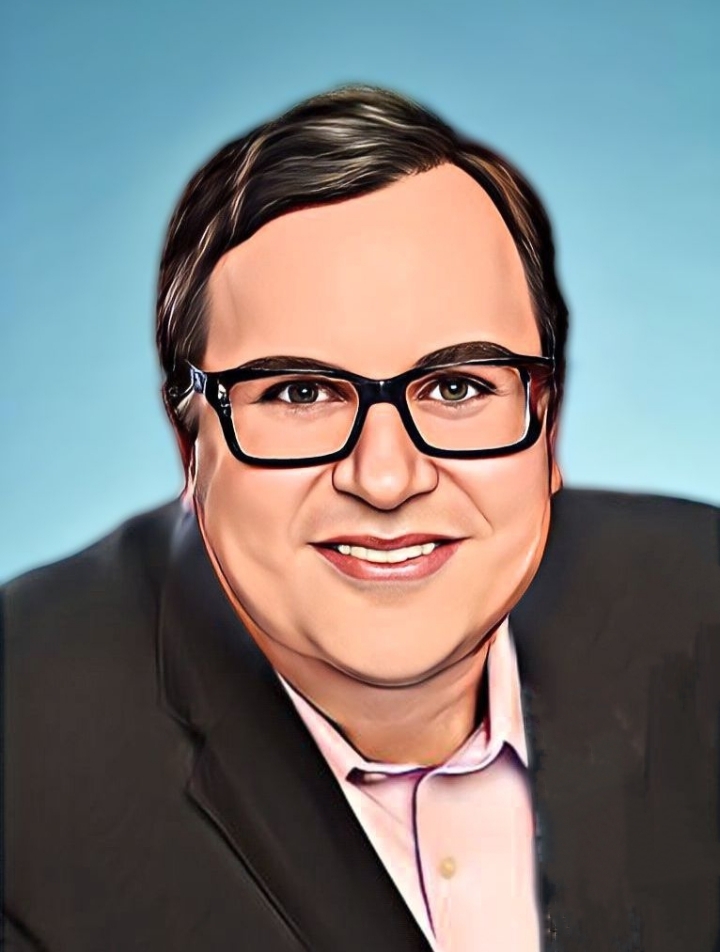 "Relationships help you find opportunities." – Reid Hoffman
"You gotta be both flexible and persistent." – Reid Hoffman
"Your network is the people who want to help you, and you want to help them, and that's really powerful." – Reid Hoffman
"In the venture capital industry, just picking winners is a losing strategy. The goal is to pick blockbusters, companies that can scale from a team of founders in a garage to a multi-billion dollar IPO in less than a decade." – Reid Hoffman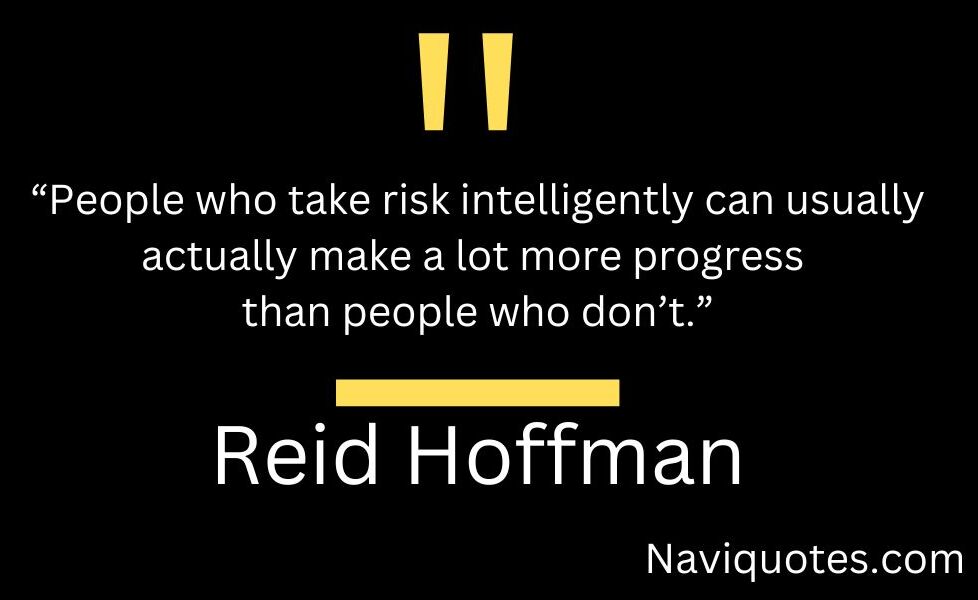 "People who take risk intelligently can usually actually make a lot more progress than people who don't." – Reid Hoffman
"Entrepreneurs are like visionaries. One of the ways they run forward is by viewing the thing they're doing as something that's going to be the whole world." – Reid Hoffman
"All human beings are entrepreneurs." – Reid Hoffman
Reid Hoffman Best Quotes
"We believe that when the right talent meets the right opportunity in a company with the right philosophy, amazing transformation can happen." – Reid Hoffman
"Pay attention to your culture and your hires from the very beginning." – Reid Hoffman
"Help the people in your network. And let them help you." – Reid Hoffman
"A business that isn't investing in tomorrow's opportunities and technologies – well, that's a company already in the process of dying." – Reid Hoffman
"By 2030 over 2 billion jobs will disappear." – Reid Hoffman
"Ultimately, the alignment of interests, values, and aspirations increases the odds of a long-term strong alliance between a company and its talent." – Reid Hoffman
"Ironically, in a changing world, playing it safe is one of the riskiest things you can do." – Reid Hoffman
"First mover Advantage doesn't go to the company that starts up, it goes to the company that scales up." – Reid Hoffman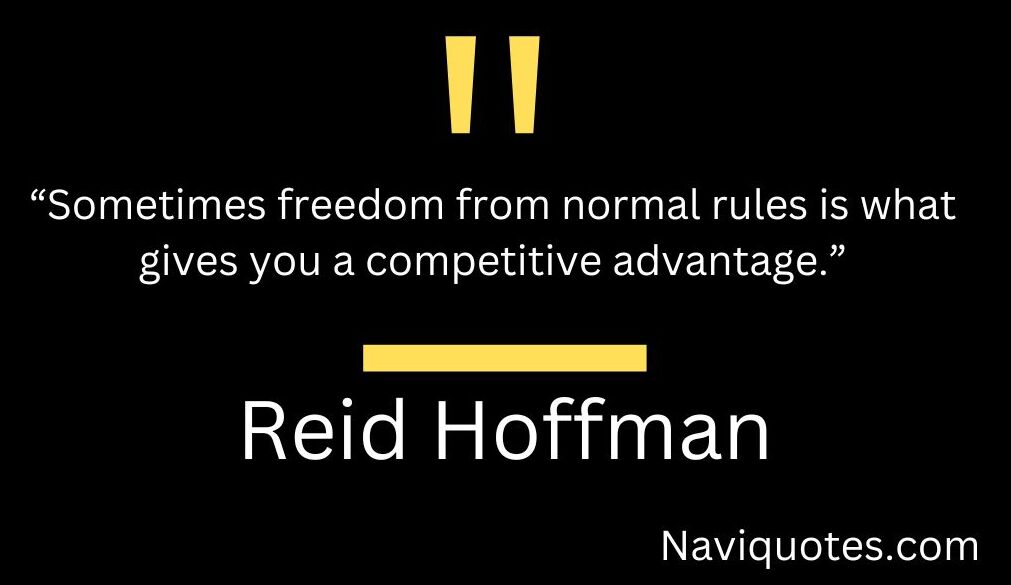 "Sometimes freedom from normal rules is what gives you a competitive advantage." – Reid Hoffman
"The underpinnings of the alliance: the company helps the employee transform his career; the employee helps the company transform." – Reid Hoffman
Inspiring Quotes of Reid Hoffman
"So usually you have to have product distribution as more fundamental than what the actual product is." – Reid Hoffman
"In software, speed to market, speed to learning is really key. In hardware, if you screw it up, you're dead. So accuracy really matters." – Reid Hoffman
"If you're not growing, you're contracting." – Reid Hoffman
"You remake yourself as you grow and as the world changes. Your identity doesn't get found. It emerges." – Reid Hoffman
"The person passionate about what he or she is doing will outwork and outlast the guy motivated solely focused on making money." – Reid Hoffman
"It's actually pretty easy to be contrarian. It's hard to be contrarian and right." – Reid Hoffman
"Good ideas need a good strategy to realize their potential." – Reid Hoffman
"It's nice to be happy. But the meaning of life is meaning – what's the impact you're having on the world. Suffering to accomplish that is a perfectly fine thing." – Reid Hoffman
"Be persistent, and hang on to your vision. And at the same time, be flexible." – Reid Hoffman
"Before dreaming about the future or marking plans, you need to articulate what you already have going for you – as entrepreneurs do." – Reid Hoffman
Details about Reid Hoffman
Name
Reid Hoffman
Surname
Reid Garrett Hoffman
Born
August 5, 1967
Age
55 year old
Country
Palo Alto, California, U.S.
Nationality
American
High School
The Putney School
College
Stanford University (BS)
Wolfson College, Oxford (MSt)
Occupation
Executive Chairman, LinkedIn
VC Partner at Greylock
Board member at Microsoft
Fields of Expertise
Business
Entrepreneurship
Technology
Spouse
Michelle Yee ​(m. 2004)
Couple Residence
Seattle, Washington
Parents
William Parker Hoffman, Deanna Ruth Rutter
Organization founded
LinkedIn Corporation
Website
reidhoffman.org
Lessons to be Learned from Reid Hoffman
1.Don't be afraid to ask for help.
2. Don't assume that the person you're talking to knows what they're doing.
3. Don't be afraid to make mistakes—and don't be afraid to learn from them!
4. Be honest with yourself about what kind of leader you are: some people are born leaders, but not everyone has it in them. If you don't think you have what it takes to lead, don't feel bad about admitting that out loud—other people will respect your honesty more than anything else!
5. Everyone has their own unique strengths—and those strengths are what make you valuable in the workplace.
6. Your job is not just about doing what you love—it's about finding people who need your unique talents and abilities. And those talents will only benefit everyone if you can find them!
7. The best way to learn something new is by doing it over and over again until you get it right.
8. Hoffman says that "it takes 10 years of practice" to become successful at something—but if you practice hard enough, you'll eventually get there. It's all about putting in the time and effort necessary to succeed.
9. You don't have to have all the answers before starting a project; instead
10. Remember: it's not about You —it's about what you can do for the team and its goals.
More – Jenna Marbles Quotes