18 Best and Interesting Quotes from KSI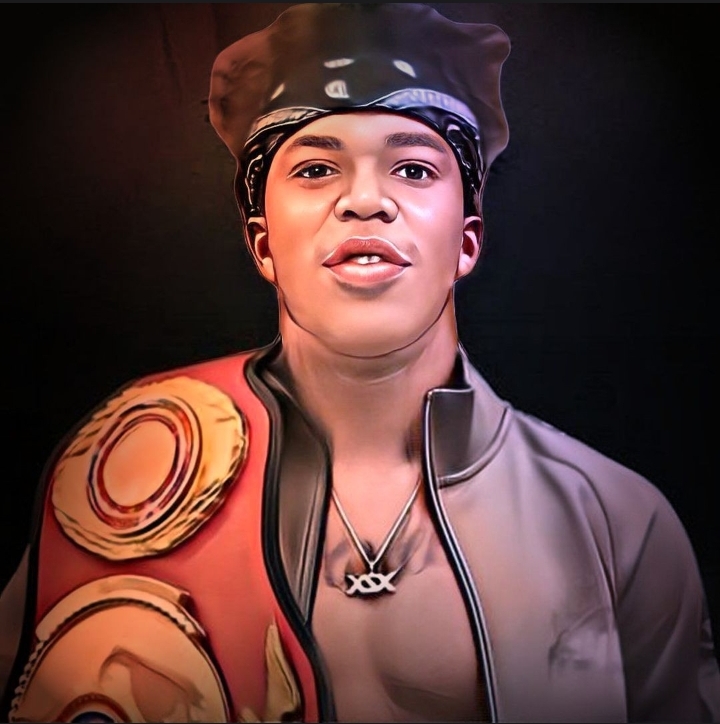 Olajide Williams "JJ" Olatunji, better known as KSI, is an English rap artist and YouTube star. He is the founder and member of the British YouTube group Sidemen.
KSI is the CEO of Misfits Boxing and a co-owner of a company that produces energy drinks, vodka, and Sides restaurant chain.
Lets see some interesting quotes from KSI
"The best decision I ever made was to drop out of school." – KSI
"School taught me how to do a 9-5 job rather than be a person who wants to start a business." -KSI
"I wasn't really into a school that much. I was in this building having to cram knowledge I didn't really care for. But on YouTube, I was able to create what I wanted and post it for people to watch." – KSI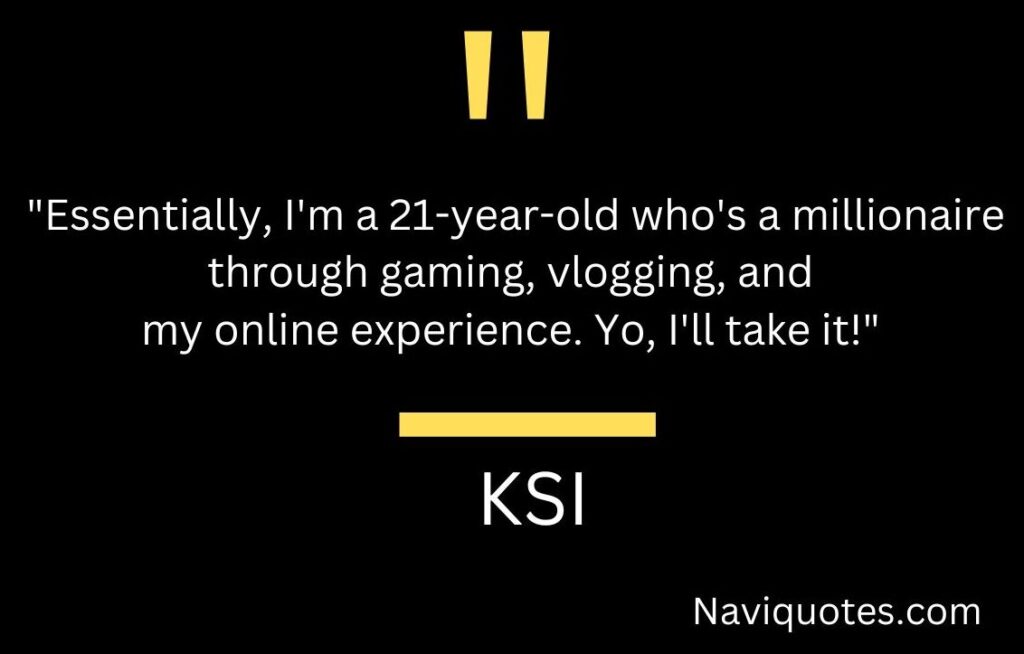 "Essentially, I'm a 21-year-old who's a millionaire through gaming, vlogging, and my online experience. Yo, I'll take it!" – KSI
"When I was, like, 16 or 17, I was just finding out about this YouTube thing. Then I saved a bit and asked my parents for some help to get the recording software and equipment." – KSI
"I kept on telling my parents school wasn't for me. And they were like, 'No you need to go university.'
I am trying to make sure that I don't spend on ridiculous things, so that after all this YouTube thing goes, I'm not left there, like, 'Uh oh, I have nothing." – KSI
"They should just open lots of YouTube schools… as well as, like, a games school, where you can play all types of games. Like, if you want to play racing games, you go there and become a pro at that. Same for football or a shoot 'em up." – KSI
"I did it for eight years and there were highs and lows." – KSI
"I was excited by YouTube again and ready to start a music career." – KSI
"I'm a really nice guy when you meet me, and that surprises a lot of people. I'm not that eccentric in real life – and certainly not that disrespectful. In my own time, I like to just chill out with friends and not get in people's faces." – KSI
Powerful KSI Quotes
"I would say, in a year, I spend maybe half of that playing FIFA. I love it that much." – KSI
"A lot of people think being at the top means you have to be the best at a certain game. You don't. It's more about personality." – KSI
"Talent can get you far. But hard work can take you anywhere." -KSI

"Don't always make it about you. Don't be selfish." -KSI
"Don't just have yes men around you, have people that will tell you how it is and be real with you 100% of the time." -KSI
"A lot of people think YouTube is quite easy when it just isn't. I've been doing YouTube for six years now, and I'd say the hardest years were definitely the first three or four. You have to constantly put out content that is good just to make people come back to your channel, and I work every single day just to try and expand my brand."- KSI
"Hands down the hardest thing I've ever done in my life, training twice a day and mountain runs on Saturdays to rest. My body has been pushed to a point I never knew I had."- KSI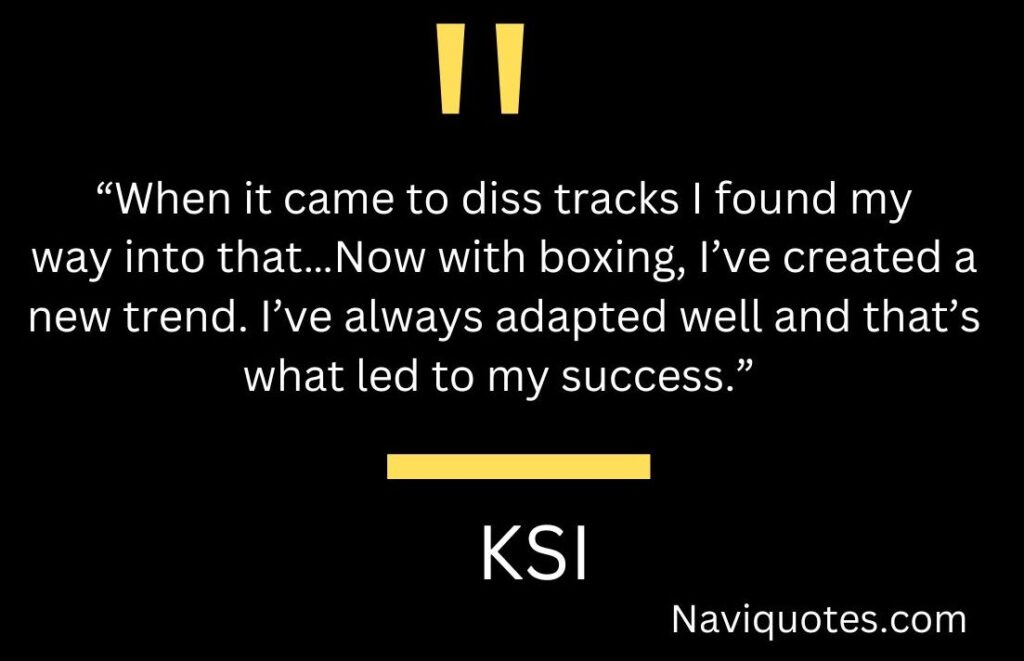 "When it came to diss tracks I found my way into that…Now with boxing, I've created a new trend. I've always adapted well and that's what led to my success." – KSI
Details about KSI
| | |
| --- | --- |
| Name | Olajide Olayinka Williams Olatunji |
| Nickname | The Nightmare |
| Surname | KSI |
| Born | 19 June 1993 |
| Age | 29 year old |
| Height | 6 ft 0 in (183 cm) |
| Country | London, England |
| Occupation | YouTuber. Rapper. Songwriter. Boxer. Actor |
| Sibling | Deji Olatunji (brother) |
| Personal Life | KSI is a supporter of Arsenal F.C. |
| Channel | KSI |
| Boxing Record | Total Fight: 3. Wins : 3. |
| Website | shopksi.com |
More – Inspiring Quotes from Neil Young